As an Amazon Associate and affiliate with other third parties, HappyGiftsForKids earn from qualifying purchases and display advertisements.
Top 100 Amazon Best Sellers Toys and Games
Amazon Holiday Toy List
Cheap Discount Toys Online (Valid until Friday 10/08/2021)
Best Marble Run for Water
Marble run should not be limited indoor or outdoor only but as well as for water play too. A great way to play this toy for water especially during those hot summer days.
Building marble runs is a fun and educational activity for children to work on during the summer months. It also helps children to develop a variety of skills that includes engineering skills if they build their marble run.
They got to troubleshoot and practice their problem-solving skills as they experience a lot of challenges in building and then playing with their marble runs.
A good excitable variation is to use a marble run in the water or with water. There is a limited choice of marble run that specially made for water but those wonderful marble runs made from plastic would fill the bill and void in the scarcity.
Here are our best picks of marble runs for water.
| | | | | |
| --- | --- | --- | --- | --- |
| Name | Pieces | Price | What it offers | Age |
| Galt Toys Inc Super Marble Run Toy, 1004105 | 9 chutes, 9 curves, 24 tubes, 6 bases, and 8 marbles | Reasonably priced | Small simple marble runs or more complex structures with the colorful slot-together | 4 and up |
| ELONGDI Marble Run Race Coaster Set, Marble Run Railway Toys [105 Pieces] | 75pcs race coaster components and 30pcs marble balls. | Cheap | Made from environmental-friendly, odorless plastic material | 2 and up |
| PlayGo Marble Race Deluxe Building, 100-Piece | 100 | Mid-range price | Creating turns and bends that will leave you amazed at where the marbles end up | 3 and up |
| Edushape Bounce A Marble | 30 | Mid-range price | Quick and easy tool-free assembly | 1 and up |
| Aqua Maze Marble Run | 103 marble run pieces, 20 floating marbles | Not Stated | Has vertical drops, a vortex to spinners, and spouts and made for water | 4 and up |
This 60-piece construction set will stimulate and challenge kids to create a variety of configurations of marble runs. It consists of sturdy red, yellow, and blue slot-together plastic. The kit contains enough pieces to create one large marble run system or lots of small structures.
The set includes 9 chutes, 9 curves, 24 tubes, 6 bases, snake pass rotary drop paddle wheel roundabout, and 8 marbles children can create small simple marble runs or more complex structures that are safe even for water.
It met the highest standard of quality and were tested for safety. Kids would have many hours of fun building a variety of challenging and fascinating runs with this kit.
Pros:
It is entertaining
Loads of fun
It's pretty easy to set up
A classic toy that encourages creativity
The colorful sturdy plastic pieces make for easy assembly
They are much like legos, once you get the idea of how they work
There are tons of possibilities and more fun to come up with your own track designs
It has plenty of pieces for lot of different configurations
The pieces fit together well and stay together.
Cons:
It doesn't come with directions
Some wished this set is bigger
Where to buy:




Marble runs are considered the best educational toy for children. The Elongdi marble race deluxe set is made of environmental-friendly, odorless plastic material that is non-toxic, without BPA and no harmful substances.

This set contains 75pcs race coaster components and 30pcs marble balls. It has a great mixture of different shaped-pieces that develops graphic cognition, spatial thinking, and hand-eye coordination to children.


This could be used in water and could work great since it's made from a high-grade plastic material. There could be a lot of new ideas for your kids to enhance their creativity and imagination and to further develop their brain thinking ability.

It comes with a portable storage bag for more convenience may it be indoors or outdoors.

Pros:
It works and is a lot of fun for young children
This is a pretty good introductory marble kit for a child
It is good quality and easy to connect together
Great price
Kids would like the unique roller coaster-like pieces
Very sturdy pieces that make it usable for little ones
it easier for little hands to put it together
Fun to build and play with
Cons:
It's a smaller marble run with smaller marbles too

Kids should always be supervised because the marbles and some pieces are tiny and are choking hazards for the younger kids
Where to buy:




This deluxe set has over 100 pieces that could be used to create turns and bends that will leave the kids simply amazed to where the marbles would end up. A great set for kids from 3 years old and up.

Children would be able to build their creativity and imagination with this marble run as the pieces are interchangeable. It also comes with 20 marbles, two pinwheels, and six bases.  One of the best ways to get your kid to be interested in building.


They'll love putting the curved tracks together and play and have fun even in the water since this easy-to-assemble plastic set includes 20 track pieces, 50 connectors, 20 marbles, 9 rollers, 2 paddles, and more.

It would truly inspire them to explore their imagination and engage in self-expression in a fun and even in a water setting.

Pros:
Your kid's imagination would be used to create
The set is durable
This is a fun game for all ages
A well-made toy that sparks creativity
More twists and turns
What you get for the price is worth it
Its a little more complex therefore it's more educational
Comes with plenty of marbles
Cons:

Some of its tracks are of different lengths
The pieces and marbles in this set are not compatible with other brands
Where to buy:


It's a simple stacking set that uses bigger balls for the younger kids that builds coordination, reasoning and fine motor skills in them. All the pieces are perfectly sized for smaller hands and slow-rolling balls keep the young children fascinated. It's a marble run type toy that would be awesome for water.


This set visually stimulating to kids that include a Marble Race Track that could provide hours of unlimited fun. It's a 30 piece set that would help in the progress of fine motor skills and hand-eye coordination in children.

It's very safe for kids as young as 1 year old and it could aid in the early enhancement of sensory skills, visual memory, logic, and reasoning skills.

Pros:
It looks cool
It has large pieces
Very safe even for the younger kids
Visually delightful
It's colorful
Easy to assemble
Cons:
It might come flimsy to a few but in fact, it's very stable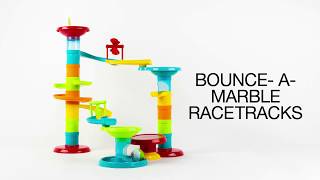 Where to buy:
Topping our list is a marble run especially made for water. Be ready for a wet and wild marble run to experience something different from the usual run. This has vertical drops, a vortex to spinners, and spouts. The kids can get their feet wet in the basic principles of physics.  The marbles can float and keep being buoyant and a waterproof play mat makes cleanup easy and fast.
This set offers a good, clean, and educational fund that also encourages the kids to learn about Physics early on.  It includes 103 marble run pieces, 20 floating marbles, scoop, and waterproof play mat.
Pros:
Fun to play with
Fun to watch it too
Great for bath time as well
It  would keep kids entertained for hours
Great toy
It could be reconfigured several times over time
It allows for a lot of creativity
Cons:
The directions could be vague

This is very difficult to assemble to some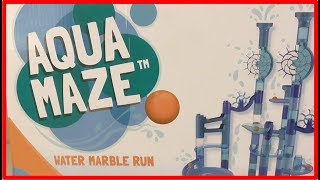 Where to buy:
After Thoughts
Make it an exciting and new way for your kid to play marble run. Let your kid use a marble run on the water for a sensory play. Try your kid to set-up a marble run in the water on a hot day. Or another option is to let water be run in the ramps of the run.
This would enable you to develop your kid's fine motor skills and hand-eye coordination. It would be a sure hit among kids as they could pour, scoop, and dump water down the chutes and ramps of their marble runs.
There would be added sensation and delight on a hot summer day!