As an Amazon Associate and affiliate with other third parties, HappyGiftsForKids earn from qualifying purchases and display advertisements.
Top 100 Amazon Best Sellers Toys and Games
Amazon Holiday Toy List
Cheap Discount Toys Online (Valid until Friday 10/08/2021)
Best Electronic Learning Toys for 11-Year-Olds
What can you expect from an 11-year-old? A lot of physical changes and a lot of drama! Welcome to being parents of a tween! This is a difficult time for parents as they have a hard time understanding what their child is going through because the latter prefers to deal with matters on their own. However, this is also a good time for their cognitive growth as they can already determine the possible repercussions of their actions. That doesn't mean they will not act out, but at least they will truly understand the long-term effects of what they did. Experts also say that the frontal cortex of the brain of an 11-year-old has not fully developed. The result of this is possible risk-taking behaviors, so parents better watch out for that.
To keep your tween occupied at home, you can give them electronic learning toys that are appropriate for their age. As they try to become more independent, a toy (could you even call it that?) that keeps a balance between educational and fun is a great idea. This way, they will continue learning even if they just want to be left alone. If you are undecided about what to buy for your growing child, here are some ideas.
Three of the best electronic learning toys for 11-year-olds:
Is it a maze? Is it a marble game? It's actually both, and it is fun with a heavy dose of logic. It's really entertaining to play, but it's also a learning activity. So how does this work? There are cards that contain challenges. The child will try their best to set up the towers based on the challenge in the card. The towers should be placed in such a way that the marble falls accordingly. That's where gravity comes in. Sounds a bit complicated? The actual game is really not that complicated, but logic will have to come into play to do this right. This can be played by the 11-year-old alone or with their friends or even the entire family.
You know that this game is special because it has received many awards. It is even tagged as Amazon's Choice. This means that the product is highly rated on Amazon. The Falling Marble Logic Maze Game also received the following: Toy of the Year (Specialty Category), Parents' Choice Gold Award, Oppenheim Toy Portfolio Platinum Award and ASTRA Best Toys for Kids Award. It's always a great deal when what children want aligns with what the parents also want.
Pros:
Child will have to use logic
Reasoning skills will come into play
Fun
Can be played with other people
Multi-awarded game
Cons:
Some pieces pop out during the challenge
Where to buy:
This is just a really simple yet fun game. It also challenges your memory. It's all in the name. It's a game that uses your brain, but you have to think really fast. Fast like a lightning bolt! Educational Insights wasn't kidding when it marketed this product as something appropriate for people between the ages of seven and 99. This is actually a good game for senior citizens so that their memory will have some exercise. But let's not get into the specifics of that because the topic is on electronic learning toys for 11-year-olds. The BrainBolt certainly fits the description of a tween-appropriate toy.
This is a toy that actually makes use of a lot of the senses. The sense of sight, first of all, is crucial in seeing the lit bulb. It's up to your brain to remember that, and when it's time to play, the sense of touch takes over. Your hearing will also be essential in remembering the game. Your 11-year-old can play by themself, or you can make it a competition for the entire family. It's a great travel companion, too. This game is also an Amazon's Choice, which means that many people who bought this gave it five stars.
Pros:
Fun game
Tests a person's memory
Great for adults and seniors as well
Uses almost all senses
Great companion for traveling
Amazon's Choice
Cons:
There is only one game
Some kids may not be interested in this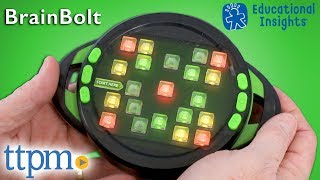 Where to buy:
What a perfect toy—if you can call it that—for an 11-year-old. It's a gadget that an 11-year-old can play on their own. In a way, it's a practice of independence as the child navigate the online world. The Heromask is a virtual reality headset. You can maximize this when paired with a smartphone. It is on the smartphone that you or your child can download games. By playing with this headset, the child will learn different languages: Chinese, French, German, and Spanish, among others. Learning different languages is a nice skill to learn at a young age. Since it's virtual reality, you know that the child will have fun. Plus, a lot of the games are really educational, aside from being entertaining.
Eleven also seems to be the perfect age to have a virtual reality headset since the child already knows how to navigate various technological systems at this age. Today's children are indeed very advanced. While a tween may want to be left alone at times, it's also important to really impose a family time to keep that bond. Well, this gadget is a great way to bond, and this headset can fit different face or head sizes, including those of adults. Also, it's not just about the games. The entire family can also watch videos using the goggles.
Pros:
Affordable
Many entertaining games available
Can be shared with the entire family
Many languages to learn
Great image resolution
Cons:
Not compatible with all smartphones
Straps are not durable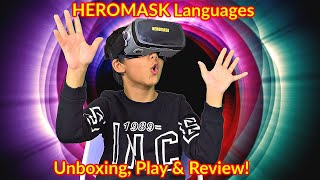 Where to buy:
Related articles: