As an Amazon Associate and affiliate with other third parties, HappyGiftsForKids earn from qualifying purchases and display advertisements.
Top 100 Amazon Best Sellers Toys and Games
Amazon Holiday Toy List
Cheap Discount Toys Online (Valid until Friday 10/08/2021)
Best Learning Electronics Toy for Toddlers
Kids are very lucky to have toys that they could enjoy and learn from that are all-time favorite classic toys and electronic toys that are innovative and interactive at the same time.
Side by side, they could play with the blocks, puzzles, and high-tech electronic toys that are both full of educational gain for them. It's very important to take note of some factors in choosing the best electronic toy for your kid.
What electric toy should you purchase?
First, the electric toy should be UL approved, which means they've been inspected for safety and quality by the Underwriters Laboratories.
Avoid purchasing electronic toys with button batteries that could be choking hazards or high-powered magnets.
The fun factor should be there. Aside from being educational, it should be colorful, enjoyable, engaging, and interactive to your kid. It's entertaining for kids to be interested in playing with it over and over again.
Your kid must learn specific skills, and it should have a purpose. It's not just an electronic toy with cute and amusing sounds into it.
It should also complement and be in-sync with your kid's other toys and mix well with the more traditional toys like blocks, clays, and kinetic sand to balance it with active physical play.
Lastly, choose age-appropriate electronic toys for your kid that would match his or her developmental stage and progress.
Why are electronic toys very popular?
Electronic toys are widely popular because it's a cool and innovative way to teach kids important skills while they could truly have fun and enjoy learning.
It's an engaging way for kids to have an interactive learning time about letters, numbers, and up to the more advanced subjects as well.
Another factor is that all their electronic toys are reasonably-priced. You'll get more for what you paid for!
Why Leapfrog is the best selling electronic toy?
LeafFrog's journey in producing wonderful electronic toys began when its co-founder Michael Wood, an attorney at Cooley LLP experienced struggles and difficulties with teaching his son how to read. This initiated him to research more about phonics and marketing while still an active partner in Cooley. Their first Phonics Desk was released before Christmas 1995 and from there on began producing more educational materials for kids.
Their first electronic toy was released in 1999, which is the LeapPad that became their flagship product and it was their best selling toy in the US from 2001-2002 while the books and accessories for it were the best selling toy in the US in 2003.
LeafFrog is the best-selling electronic toy because they are highly-educational, and they have the qualities that could make the kids preoccupied with them for hours. They have a variety of subjects to cater to kids from shapes, numbers, colors, and animals as well.
LeapFrog toys have a strong educational side that is fun to play with while learning at the same time.
Here are the top 3 LeapFrog Electronic toys you could purchase for your kid.




Let your kid soar into learning with the 100 Animals Book that teaches about animals, habitats, Science, and English/Spanish.

It contains six double-sided, interactive pages that feature animals from 12 categories, such as the forest, the ocean, and the shore. Your kid could choose from its three play modes that would teach about animal names, animal sounds, and fun facts.

It's a  fully bilingual book that would let the kids learn about animals and sing songs both in English and Spanish. The fun facts about animals in this book serves as a good introductory lesson to Science.

They are designed for kids from 18-48 months that requires 2 AA batteries to play it.


Pros:
It is very responsive to touch
The pages would be able to withstand a toddler's drool and sticky fingers
This toy is awesome as it makes it so easy for the kids to use and learn on their own
Kids could easily learn with three play modes to choose from
It has a system that reads when u turn the page and announces the new subject
It's a winner
It's a very attractive toy for children
A bilingual toy that's great for toddlers learning words in both English and Spanish.
Bright and colorful pictures with tons of phrases, songs, words, and sentences.
Cons:

The front cover might hang in the air when you open it which could lead to the sensors being disturbed
The sensors are extremely sensitive wherein pointing at something in the book two inches away could trigger it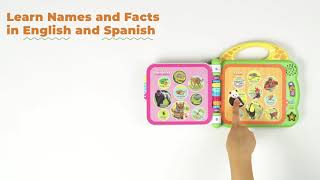 Where to buy:
In this brightly colored book, the Learning Friends teach more than 100 age-appropriate, and your kid gets to meet Turtle, Tiger, and Monkey, who will introduce more than 100 age-appropriate words chosen by learning experts under 12 categories like pets, animals, food, mealtime, colors, activities, opposites, outside, vehicles, clothes, my body, and fruit.
By your kid touching the words on the pages would play the words, sound effects, and fun facts. There is also the Learning Friends theme song and a feature, My Favorite Word, that your kids just need to press the light-up star button.
It offers a bilingual learning experience for toddlers from 18-48 months as the words, songs, and instructions can be heard in both English and Spanish.
It requires 2 AA batteries to play interactive sound features.
It's also now available in the English-Chinese bilingual version.
Pros:
It's a great learning toy
The kids' little fingers don't have to press it too hard
It covers vehicles, animals, food, vehicles, and more
Very educational and entertaining
It has amazing quality
A great way for toddlers to learn first words
Easy to activate for small toddlers
Nice, durable, and easy to clean pages
Cons:

The concept of this book is great, but the touch feature might be incredibly sensitive, and your kid must gently touch the picture or the book only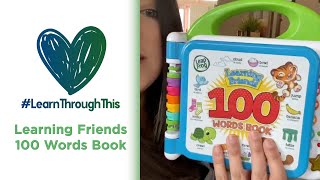 Where to buy:
After Thoughts
Electronic toys are truly a great new way to teach kids important skills while they're having fun. They are very enjoyable, and it's all written on every child's face who plays with LeapFrog electronic toys.
These moments are priceless as you could witness and see your kid have an awesome learning experience that makes them engrossed and to want to learn more for such incredibly reasonable prices.
Learning should always be beneficial, fun, interactive, and doesn't need to be expensive. You'll have all these in LeapFrog electronic toys.