As an Amazon Associate and affiliate with other third parties, HappyGiftsForKids earn from qualifying purchases and display advertisements.
Top 100 Amazon Best Sellers Toys and Games
Amazon Holiday Toy List
Cheap Discount Toys Online (Valid until Friday 10/08/2021)
Nerf guns you can modify
Nerf guns could give a new level of experience from other oy guns. For one, it could also cater to adults that could collect them and modify them to make their nerfing more exciting, and it's a lot cheaper as compared to Airsoft or Paintball guns.
Nerf guns offer an amazing aspect, and that is the customization of them and their weapons. The possibilities are limitless as you could modify them to shoot farther, faster, and more precise. You could also integrate multiple guns.
Generally, Nerf guns are either spring guns that have air restrictor/air limiter removal, spring replacement, seal improvement, and barrel replacement and are primed by using  cocking mechanisms.
Whereas, pump guns have air restrictor/air limiter removal, over-pressure release valve plug, and barrel replacement could be primed by pumping it several times.
It's very rewarding and satisfying to modify a Nerf gun because you'll be hands-on in creating new features and functions in it.  And anyone could mod their Nerf gun!
Why do people modify their nerf guns?
The primary reason to mod your Nerf gun is to increase its range or speed tremendously. It could make your foam darts travel triple their usual distance. Who knows? it might reach 100 feet!
The secondary reason is to be able to empty 25 rounds of ammo in lesser time and just within 3 seconds. Normally, a 25 round would be off about 7 to 8 seconds long. If you modify your Nerf gun, you could shoot your opponent with more than 8 rounds per second. And that's exemplary fast!
Here are the Nerf guns that are modification easy and friendly.
The next Nerf gun you can modify is the N-Strike Elite Mega CycloneShock blaster that has a very High quality and is such a powerful one. It's robust and has a 6 dart capacity that it could fly up to 90 feet far with a whistling sound to it. 
It's equipped with a rotating drum that would let you fire 6 darts without the need to reload at once. It comes with 6 Nerf official mega darts.
IT's a good-looking gun that has the power, sturdiness, and range to it.
Pros:
It's an awesome Nerf gun with a serious amount of power
this Nerf gun is that it can fire the shots consecutively without having to "wind up" every time
Fun for kids but more fun for adults
The mega darts have a pretty good range
It's that expensive at all as compared to other models
The MEGA series offer bigger bullets, more weight, and thus more accuracy
It is easily the most accurate Nerf gun to have
Excellent blaster
Cons:
It might be difficult to shoot for a kid
Where to buy:
The Nerf N-Strike Maverick REV-6 - White Edition is awesome;y a super cool blaster that could be quickly loaded and could be rapidly fired.
It would help you to sharpen your shooting skills and to be able to achieve an edge in any battle with its quick-firing rotating barrel. Just slide, lock, and load your way to those blasting moments.
Maverick is a six-shooter that only shoots with soft suction darts that can fly across the area. For an extra power boost, use its pump mechanism and have those darts reach greater heights and lengths.
Pros:
It's sturdy and fun to use
It is almost like a Colt revolver
The gun is well built and solid
Even without any modifications, the darts that are shot from this gun does not hurt much
It's a cool Nerf gun at a great price
This Gun Is just too good, and what more if you modify it
Cons:
It shoots about as accurate as most nerf guns, but it might have lesser power for some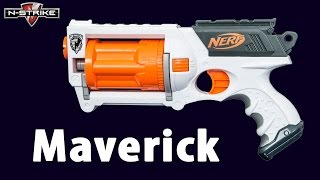 Where to buy:
You could have a Glow-in-the-dark semi-auto blasting with the Elite Rayven Cs-18 blaster. It has a Firefly Tech clip that charges 18 glow darts.
Its clip adds glow-in-the-dark power to any Clip System blaster as well. It comprises an acceleration trigger to powers up the motor for semi-auto blasting. It includes 18 Elite glow-in-the-dark darts, Firefly Tech clip, and instructions. This has been discontinued, but it is still in demand and available at Amazon.
Pros:
It has the accuracy with the fire rate of the barricade that's more compact
They do have a long glow time and look pretty cool flying in the air
The Elite Rayven CS-18 is possibly one of the best blasters available to buy
It has an excellent overall performance in a compact package
It's semi-automatic and could be fired faster than full-auto blasters
It could handle any Clip-System darts such as the elite and regular ones
It has a Bullpup design that balances the gun 
Barrel extension compatible
Its motor is relatively quiet as compared to other Nerf blasters
Could be dual-wielded
Cons:
It might jam once in a while
No barrel extension included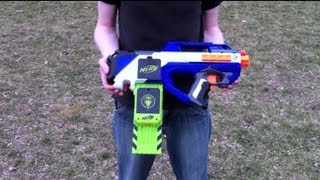 Where to buy: