As an Amazon Associate and affiliate with other third parties, HappyGiftsForKids earn from qualifying purchases and display advertisements.
Top 100 Amazon Best Sellers Toys and Games
Amazon Holiday Toy List
Cheap Discount Toys Online (Valid until Friday 10/08/2021)
Can you combine Exploding Kittens deck?
The original Exploding Kittens is 56 cards innovative card game that came out in 2015 as a strategic card game about cats and destruction that's been designed by Elan Lee Matthew Inman from the comics' site The Oatmeal and Shane Small.
CNN described it as just like UNO, except there are goats, magical enchiladas, and kittens that can kill you.
What strategies can you do with Exploding Kittens cards?
You could play various cards to skip your turn, attack other players, peek at the deck, or secretly relocate an exploding kitten card.
You could relocate an exploding kitten to a new location in the deck that would let you form complex, fun, and cruel strategies against your opponents.
You could also play cat cards, which are different from kitten cards. Cat cards activate special powers.
How to play Exploding Kittens?
You need to put the cards on the table and take turns drawing from them.
In the event that you draw an exploding kitten card, you then explode, and when you explode, you die, and you're out of the game.
But wait, unless you play a defuse card that would stop the kitten from exploding by using things such as laser pointers, kitten yoga, and catnip sandwiches.
You could also play cat cards that are different from kitten cards. and since cat cards have the ability to activate special powers.
Can you combine Exploding Kittens deck?
Absolutely, Yes. The backs of the cards are identical, and the faces of the cards have an indicator in the bottom left that identifies its edition; thus, you could still separate the decks.
If you're playing with more players, then you could combine multiple decks together or purchase an additional expansion pack, which is the Imploding Kittens, to add one additional player. This is the first expansion pack of Exploding Kittens, and the instructions are written on each card.
Each round could last between 10 and 20 minutes. It's easy gameplay as even as young as 6 years old could have one blast of enjoyment.
The Exploding Kittens original game is the perfect card game for people who are into kittens, explosions, laser beams and sometimes goats. It's a great fun play for ages 7 years old and up, and it could be played by 2 to 5 players. 
Each game could last about 15 minutes, and you could do it over and over again. This game of the year winner had sold more than 9 million copies sold that broke records in kids games, adult games, and for any age level for that matter. 
You're in for a surprise when you might pick that tricky exploding kitten! This is a card game that could bridge the gap between adults and kids as they could both play together and try to evade the exploding kittens.
Pros:
The cards are plastic coated
It is a great game for kids and adults and for family fun game nights
Kids could play on the same level as adults, and they enjoy that
6year old picked it right up and loved this game
It's a great game
This is the card game that made history on Kickstarter.com by being the most-backed Kickstarter ever
It's super fun and super addicting
Cons:
The edges of the cards might start to peel from constant playing and shuffling
Some wished the cards are of better quality for their price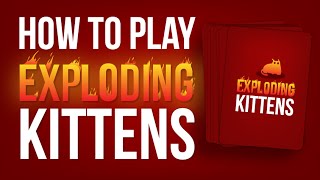 Where to buy:
After Thoughts
The Exploding Kittens original edition is a wonderful start of this wonderful game as it offers more variants and expansion packs now.
It's such a hit for its entertainment and substantial fun value. The illustrations on each card are fantastic and creatively rendered and done. 
Enjoy a lot of meowing time with Exploding Kittens!